Hello, welcome to my Web site. Feel free to browse through my bio and portfolio,

check out the links and sign up for my newsletter. I hope you enjoy.

Stay up to date with new releases and public appearances by signing up for my newsletter. It comes out four times a year, in January, April, July, and October. Twice a year I run contests for fun prizes, and I never share your email with anyone.

Be sure to visit again soon to see more pictures and check for updates on novels and other works.

Thanks for stopping by and have a very blessed day.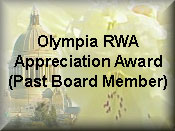 This is the icon I get to proudly display for holding an office in the Olympia Chapter of Romance Writers of America.